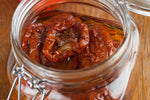 This is an easy way to make an instant gourmet addition to salads, pastas, pizzas, charcuterie boards, sandwiches….. you name it. And it's ridiculously simple to do. You can also give these as hostess gifts or for birthdays and holiday gifts!
Ingredients:
24 ripe roma tomatoes
1 250ml bottle of Three Farmers Roasted Garlic and Chili Camelina oil (if you are sensitive to spice, you can use our Original or Roasted Onion and Basil Camelina Oil instead)
Himalayan sea salt to taste
1/2 Pint canning jars
Method:
Preheat oven to 200c and halve your tomatoes. Toss tomatoes in a generous drizzling of Roasted Garlic and Chilli Camelina Oil and approx. 3tsp salt. Place face up on a baking sheet and pop them in the oven. It will take 2-3 hours for your tomatoes to dry so be patient! When they are ready, they should be about 1/4 of the size and just a little nit chewy in the centre. Allow them to cool completely and place in a mason jar. Cover the tomatoes almost to the top of the jar with Three Farmers Roasted Garlic and Chili Camelina oil and seal the lids. There you have it, some amazing little morsels for any meal. They look pretty on your shelves too…. Enjoy!