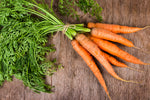 Here's how to make your carrots from the market go further. This pesto is great in pasta dishes, on sandwiches, as a spread for pizza or even dolloped onto gazpacho. Or use it to make a lively vinaigrette by whisking together 1 tablespoon pesto with 1 tablespoon vinegar of choice and 2 tablespoons of Three Farmers Camelina oil. Thank you to Matthew Kadey for this delicious recipe. Check his website out at
www.matthewkadey.com
Ingredients:
Carrot tops from 1 bunch carrots
1 cup cilantro
2 garlic cloves, chopped
1/3 cup hemp seeds (hemp hearts)
Juice of 1/2 lemon
1/2 cup grated parmesan cheese
1/3 cup Three Farmers camelina oil
Method: Place carrots, cilantro, garlic, hemp seeds, lemon juice and parmesan in a food processor container and pulse until carrot tops are pulverized. With the machine running, slowly pour in the Camelina oil through the feed tub and blend until combined. Enjoy this in as many ways as you can create!