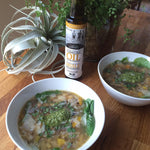 Another delicious creation from Alison Ramage of
Design to Dine
. The perfect way to savour the remaining days of summer! Serves 4 2 Tbsp Three Farmers camelina oil 1 leek diced 2 cloves of garlic - 1 clove minced small the other reserved for serving 3 heirloom carrots diced small- I used yellow to keep the colours consistent 1 small white egglant diced 1 small grey zucchini diced small 1 medium yellow zucchini diced small 1/2 cup white wine 1 medium yukon gold potato peeled and diced small 2 litres good quality chicken stock 1/4 cup english peas or frozen edamame shelled zest and juice of1 lemon 1/4 cup chopped fresh parsley
Mint & Basil Pesto
1 cup fresh basil 1 cup fresh mint 1 tsp salt 1/4 cup walnuts 1/2 cup Three Farmers Basil + Onion camelina oil Juice of half a lemon 1 small garlic clove 1/4 cup finely grated parmesan cheese
Directions
Pesto
1. In a blender/food processor or with a hand blender, add all ingredients except oil and parmesan. 2. Pulse ingredients together to roughly chop. 3. Slow drizzle oil until a paste is made. Stir in cheese to finish. Refrigerate until ready to use.
Soup
1. In a soup pot, add oil and saute leeks until slightly softened. Do not brown. 2. Add carrots, eggplant, zucchini, and garlic saute for 5 minutes until vegetable begin to sweat. 3. Add white wine and stir to coat veggies. Allow wine to reduce. 4. Add potatoes and chicken stock and simmer for 20 minutes until potatoes are soft. 5. Add edamame, lemon juice + fresh parsley cook for 5 minutes. Season with salt and pepper to your desire.
Serve
1. In a soup bowl finely grate 1/4 of a fresh garlic clove. 2. Add a handful of kale and ladle soup over the kale. 3. Add a spoonful of pesto on top of soup and an extra grate of parmesan. Enjoy!