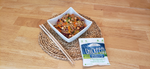 Are you hoping to combat the Back-To-School frenzy with quick and delicous dinner inspirations? Check out this recipe for Thai Chickpea Noodles that the whole family will enjoy!
Ingredients
1 Red Bell Pepper Sliced thinly

1 Cup Shredded Carrot

½ Small Red Cabbage, Shredded

¼ Cup Green Onion, Finely Sliced

2 Stalks of Celery, Thinly Sliced

½ Cup Cucumber, Matchstick Slices

2 Packs of Brown Rice Ramen Noodles

1 Package Three Farmers Foods Roasted Chickpeas, Sea Salt & Lime Flavor

2 Tbsp Peanut Butter (Substitute Wow Butter for a Nut Free Alternative)

2 tsp Grated Fresh Ginger

1 tsp Minced Garlic

1 tsp Rice Wine Vinegar

1 Tbsp Hoisin Sauce

1 Tbsp Warm Water

1 Tbsp Three Farmers Original Camelina Oil
Directions
In a large bowl, place the two packages of Ramen noodles and cover with boiling water. Let the noodles sit for 2 – 5 minutes, or until the noodles have become soft. Once the noodles have fully softened, drain the water.

Add 1 Tbsp of Three Farmers Camelina Oil to the soften noodles and toss to coat all the noodles to prevent from sticking together.

Add the red bell pepper, shredded carrot, cabbage, green onion, celery and cucumber to the bowl of noodles.

In a small bowl, add the peanut butter (or Wow Butter), hoisin, ginger, garlic and rice wine vinegar. Mix together and gradually add the warm water until the sauce is thin enough to pour.

Bowl the sauce over the vegetables and noodles and mix together.

Add the bag of Three Farmers Roasted Chickpeas, Sea Salt & Lime flavor and mix once more.
Recipe compliments of Three Farmers dietitian – Heather Deck, RD