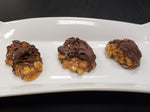 Ooey, gooey and delicious, here is another recipe from our very own Three Farmers in-house dietitian Heather Deck PDt(c).
Ingredients:
1 ½ Cups Three Farmers Lightly Salted Crunchy Little Lentils
30 Individually Wrapped Caramels, Unwrapped
½ cup Semi Sweet Chocolate Chips
2 Tbsp Heavy Cream
2 tsp Coconut Oil
1 tsp Vanilla Extract
Directions:
Line a baking sheet with parchment paper and set aside.
Combine caramels and heavy cream in a saucepan over medium heat. Heat the mixture and stir continuously until the caramels have fully melted.
Stir in the vanilla extract and Three Farmers Crunchy Little Lentils
Spray a small cookie scoop or smaller spoon with non-stick cooking oil and scoop the caramel-lentil mixture onto the baking sheet forming little mounds. Leave 2 inches between each mound to prevent them from sticking to each other.
Place the semi-sweet chocolate chips and coconut oil into a microwave safe bowl and microwave for 30 second intervals and stirring in between, until the chocolate has fully melted.
Drizzle the melted chocolate over the clusters.