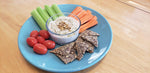 Recipe compliments of Three Farmers dietitian Heather Deck, RD.
Ingredients:
1 Can of White Kidney Beans
4 Cloves of Roasted Garlic*
1/8th teaspoon Salt
Juice of One lemon
1 teaspoon Red Wine Vinegar
¼ Cup Three Farmers Original Camelina Oil
1 Tablespoon Dried Rosemary
½ Tablespoon Dried Sage
½ Tablespoon Dried Basil
1 teaspoon Ground Black Pepper
Directions:
Place the beans, garlic, lemon juice, vinegar, salt, pepper, and dried herbs into the bowl of a food processor. Pulse the ingredients until combined.
Slowly add the Three Farmers Original Camelina Oil through the top opening while processing. Continue processing until the mixture is smooth.
Transfer to a serving bowl and garnish with Three Farmers Garlic & Herb Crunchy Little Lentils and Three Farmers Original Camelina Oil.
Serve with vegetables, crackers, pita chips, or bread.
*Slice the top off a head of garlic, drizzle with Three Farmers Original Camelina Oil, sprinkle with salt and pepper and bake in the oven at 400 degrees Celsius for 20 minutes.