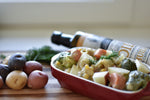 Vegetable Dill Stew
by Elysia Vandenhurk
Ingredients
2 tbsp Three Farmers Camelina Oil
3 cloves garlic, chopped
½ onion, large dice
3 large carrots, large dice
3 cups cauliflower florets
3 cups broccoli florets
2 cups cooked corn kernels
3 cup small creamer potatoes, medium dice - Try Little Potato Company (link to product)
Dill Gravy
¼ cup butter
1tbsp Three Farmers Camelina Oil
½ cup flour
1.5L Veggie Stock
1.5 cups fresh dill, finely chopped
Instructions
Make your Gravy first
Heat butter and Three Farmers Camelina Oil in a medium saucepan over medium heat.
Stir in flour and stir to form a smooth paste (roux).
Gradually whisk in the broth and whisk vigorously to ensure a smooth consistency.
Bring to a boil, reduce heat, and simmer, stirring constantly, for 8 to 10 minutes, or until slightly thickened.
Turn off heat and mix in the Dill. Season with Salt and pepper to taste.
Making the Stew
Prep and dice all vegetables. In a large pot, heat Three Farmers Camelina Oil and sauté onion, garlic and carrots until lightly browned.
Add the gravy and bring to a simmer (add more stock if gravy becomes too thick).
Add diced potatoes and simmer for 10minutes.
Now add the remaining vegetables and cook until all vegetables are tender, but not mushy!
Season with Salt and Pepper and Enjoy!