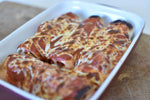 Vegetable Enchiladas
by Elysia Vandenhurk
Filling
2 cups cooked green lentils
2 tbsp Three Farmers Camelina Oil
2 large carrots, shredded
1 bell pepper, small dice
2 cloves garlic, crushed
½ white onion, small dice
1 jalapeno, seeded and diced
2 tsp cumin
2 tsp paprika
2 tsp chili powder
Salt and pepper to taste
(sub vegan cheese for Vegan if desired)
Saute carrots, peppers, garlic, and onion in Three Farmers Camelina Oil on high heat, until lightly browned.
Toss lentils, sauteed vegetables and spices into a puree machine / blender and blend until pureed and combined. Texture will be thick, like a paste.
Sauce
1 tbsp Three Farmers Camelina Oil
½ white onion, small dice
4 cloves garlic, crushed
2 cups crushed tomatoes
1 tbsp dried basil
1 tbsp dried thyme
1 tsp oregano
1 tsp paprika
Salt and pepper, to taste
Saute onion and garlic in Three Farmers Camelina Oil until lightly browned, add crushed tomatoes and spices.
Stir and bring to a light simmer for 10min. Season with Salt and Pepper.
Instructions to Assemble, Bake, Serve
Preheat the oven to 375F. Using soft tortilla shells, assemble the enchilada mixture into the tortilla with some shredded cheese. Roll tightly and assemble in an oven proof casserole or lasagna dish.
Top each Enchilada with a generous spoonful of Sauce and sprinkle with more shredded cheese.
Bake for 20-25min.
Top with Three Farmers Crunchy Little Lentils for some additional flavour and some Crunch! Serve Warm!