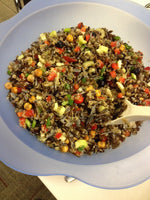 This salad is a delicious, nutritious, and beautiful looking dish. All the ingredients are 100% Canadian Grown and Made. It is the perfect salad for a busy lifestyle as its quick and easy to prepare; but offers tons of vitamins, fibre, protein, and omega 3's to get you through your day. All the ingredients in this salad can be sourced by local prairie brands and eating local means you know the path your food takes to get to your table. Along side your Three Farmers staples, try looking for: Floating Leaf Wild Rice, NorQuin Quinoa, and Canadian Grown Lentils.
Salad Ingredients
2-3 cups cooked wild rice
1 cup cooked French green lentils
2 cup cooked Canadian Quinoa
1 cup diced red bell pepper
½ cup chopped green onion
1 cup dried Saskatoon Berries
1 cup Three Farmers Roasted Chickpeas, Balsamic and Cracked Pepper Flavour
Dressing Ingredients
¾ cup Three Farmers Camelina Oil
½ cup cider vinegar
2 Tbsp grainy mustard
2 Tbsp honey
Instructions:
Cook up the rice, lentils, and quinoa as per instructions on the package. Cool down with ice water. Strain and mix together in a bowl with the chopped veggies. For the dressing, use a small mason jar and add the camelina oil, vinegar, mustard, and honey. Close the lid and shake aggressively until well blended. Use desired amount of dressing and put the remaining in the refrigerator for use another time. Season the salad with Salt and Pepper. This salad will stay fresh and tasty for up to 6 days.