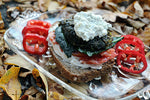 This recipe comes to us courtesy of
Wholly Canadian Blog
. Ingredients:
1 cup cooked Naosap Harvest Wild Rice
1 cup cooked organic black beans
1 medium onion, diced fine
1 clove garlic
1 flax egg (mix 1 TB of flaxmeal with 2 TB warm water, mix, & let stand for 2 minutes)
1 teaspoons of salt (I used American unrefined salt)
1 teaspoons of freshly cracked fair-trade Arayuma black pepper
1 teaspoon of fair-trade Arayuma turmeric
1/2 teaspoon fair-trade Arayuma chili peppers (optional)
1 teaspon fresh oregano--finely chopped (if using dried, using 1/3 the amount)
1 teaspon of fresh thyme--finely chopped (if using dried, use 1/3 the amount)
2 TB Three Farmers camelina oil, as well as some more for your skillet
1/2 cup Naosap Harvest Wild Rice Flour for coating the burgers
Step 1: Wholesome traditional preparation (Day 1) 1. Soak black beans & wild rice traditionally. See our guide for instructions and why this is a whole-health choice. 2. Make sure to pre-measure your rice, so that you know how much water to cook it in later. Note: I always prepare more than the respective recipe requires for additional meals or freeze for later use.

Step 2: Cooking (Day 2)

1. Bring soaked black beans to a boil. And then simmer covered for 2-3 hours.

2. Cook the wild rice in broth or water.

Soaked wild rice takes less time to cook, and also requires less liquid than unsoaked rice.
1 cup of soaked rice rice requires about 2.5 cups of liquid
bring to a boil, and cook for about 40 min
Step 3: Putting it all Together
1.
Dice the onion and mince the clove of garlic.
using Three Farmer's camelina oil, in a large skillet (preferably cast iron pan), sautee the onion & garlic on low-medium h

eat until golden but not burned
2. In a food processor, add all ingredients including the oil, except the wild rice flour.
blend, but leave some texture of the wild rice and beans. It just takes few seconds to get a crumbly but sticky mixture.
3. Transfer the mixture into a bowl. Taste the mixture and adjust any seasoning to your liking.
if you have small kids you may want to omit the chilli pepper, or just add it to some of the mixture for adults.

you may want to add more salt or pepper according to taste.
set a plate next to the bowl with Naosap Wild Rice Flour. Create a firm patty with your hands and drop into the flour, flip over to coat completely.
heat some camelina oil in the same pan you sauteed the onions & garlic, and carefully drop the burgers into the pan

cook for about 2 -3 minutes on one side on medium heat, or until slightly golden and firmed up. Then flip over to the other side to cook until slightly golden.

you don't want to touch them too much while they're cooking or else they could break and crumble or stick to the pan. Leave them on the spot they are placed until ready to flip.

add more camelina oil if needed and continue with the rest of the batch.
Step 4: Serving
Here are some gourmet options for serving your wild rice burger:
Grain-free option

: stacking the burger on some grilled slices of eggplant with kale, pickled red pepper, vegan mayo, grain mustard and organic ketchup. Serve with a basket full

of c

arrot and cucumber sticks and eggplant fries.
Traditional foods option

: Wholly Canadian served this burger on traditional sourdough bread, garden tomato & kale, mayo, and cultured garlic-basil kefir cheese.
Creates about 5 medium burgers