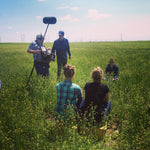 We want to give you a sneak peek behind the scenes of our latest shoot with CBC's Dragons' Den! We've finally had time to sit down and gather our thoughts after the shoot and want to share them with you. As most of you know, back in the den, we did shake hands with Arlene, but unfortunately our deal fell through in due diligence. Being contacted to film an update got us super pumped to show you all our progress since our episode aired in 2012.
Our day started out with a trip to the farm in Midale, SK (1 hr. south of Regina). We got the Three Farmers, Colin, Dan & Ron ready for their close ups; they aren't much for the spotlight! Watch for them introducing themselves as the Three Farmers, it took a couple of takes for them to get it right! The sun shone and the wind whistled as we shared information about our innovative farming practices we use to bring you, our customers, the best products! We did shoot some footage of how we practice intercropping and hopefully that makes its way into the show as we took the time to talk briefly about how we work towards the ideal sustainable farming plan. You'll also see a bird's eye view of both the farm the camelina seed in a grain bin after Natasha was convinced to put a GoPro camera on her head and climb to the top of a bin.
After the farm, we drove into Regina and headed to the Sherwood Co-op on Quance Street for an in-store tasting. A huge thanks to all of our loyal fans and clients who came out and will maybe appear on the show themselves. We were extremely excited to sample our newest product, one that we have been working so hard on; the Roasted Chickpeas! We are pleased to say that everyone who sampled them loved them as much as we do - so stay tuned to see them in stores and on shelves soon!!! Filming this segment gave us the chance to hear amazing feedback from people who use camelina oil in their everyday cooking. One of the highlights of the day was for us to stop by Willow on Wascana and talk to Chef Tim. He was gracious enough to appear on camera and talk about how he uses camelina oil throughout his menu, including in his desserts.
This was overall a wonderful day for us and we couldn't be happier with all that we shared. Sometimes we forget to look back and let it sink in how far we have come and this experience really allowed us to do that. When we entered the Den, we had only 150 retailers and we have now grown to over 900 across Canada. This has allowed us to grow and envision so much potential for the future and it also means we will continue educating the public on our product and the benefits of using it. We are reminded of Kevin O'Leary's comment when we were pitching our business to the Dragons. Kevin said, "you're on the bottom floor of a long journey." While there is no doubt that its been a lot of hard work, we have had so much success and so much fun along the way! We are looking forward to continuing to share our story, building our product line, leading the farm to fork movement and having more customers confident in knowing where their food comes from.
Thanks again for all of your support and watch for us on Dragons' Den this fall!