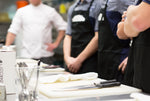 What do you get when you put 4 members of the Saskatoon Blades hockey team in a kitchen with a mysterious box of ingredients (including some tasty Three Farmers products), AND only 25 minutes to cook up a delicious dish?
That's right, you get some reality TV like videos for your viewing pleasure! In true 'Chopped' fashion, we also made the teams go up in front of our panel of talented and tough judges to earn those bragging rights as the best chefs on the Blades team!
In this episode 1 of The Three Farmers Black Box Cooking Competition: Featuring the Saskatoon Blades, the Ham Camwiches and the Average Joes get their black box of ingredients but also have the opportunity to grab stuff from the pantry to help with making a delicious entree.
Little do they know...a surprise ingredient will be thrown into the mix. What do you do when life gives you oranges? Well you have to watch and see how creative these guys are. While you're at it, think about which team you believe has what it takes to win.
Voting for our Grand Prize starts TOMORROW on Facebook!
Episode 1: