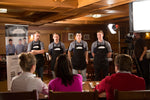 We are excited to share with all of you something we have been working on for a couple of months;
The Three Farmers Black Box Cooking Competition featuring the Saskatoon Blades!
And because we had so much fun we want to let you in on the action and have created a one of a kind prize that one lucky Saskatoon Blades and Three Farmers fan will win!
GRAND PRIZE:
$250 Cash, Three Farmers snacks for a year, Saskatoon Blades game tickets
How Do I Enter to WIN?
Follow our Facebook page and watch as we release the episodes from our cooking competition over the next 2 weeks. This competition featured 4 members of your Saskatoon Blades and a black box of ingredients! You just have to vote by liking the profile of the team you believe the judges chose as the ultimate winner - VOTING STARTS on Facebook January 6th!
The winning team as selected by our panel of esteemed judges, will be announced at the Saskatoon Blades Collegiate night game on January 14th.
A social media Grand Prize Winner chosen from those who voted correctly for the winning team, will be announced on the Three Farmers and Saskatoon Blades Facebook and Twitter accounts on January 16th. And yes, that winner walks away with $250 in cash, Three Farmers snacks for a year, and Saskatoon Blades game tickets!
Here are some teaser photos from the competition...can you tell who has the talent to win?