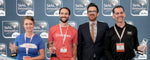 Every day at Three Farmers, we are innovating, from seed to store shelf. Whether it's through our regenerative farming techniques, proprietary roasting process, Red Seal chef created recipes or even our packaging, we pride ourselves in leading the way in healthy snacking. The food industry is in constant flux, and adapting to a changing market while ensuring taste, texture and nutritional profile of our products are top notch is a challenge we meet with vigour. Because we take all of this so seriously, it is a huge honour to be recognized for these accomplishments by winning SIAL's Innovation grand prize for our Pea Pops!
Elysia Vandenhurk, COO at Three Farmers accepting the SIAL Innovation award
Food companies from North America and abroad presented their new products to local and international buyers as part of the Canadian component of the International Food Expo (SIAL), a network of trade shows dedicated to food industry in the world. "There were so many amazing products and brands selected for the 2018 Innovation Award and we are extremely honoured and proud to have taken the Gold," said COO of Three Farmers Elysia Vandenhurk. "At Three Farmers, we set out to create uniquely powerful products while connecting customers with the story of how their food is made. The SIAL Innovation Award has drawn great awareness to our brand and has inspired us to continue to innovate and share Three Farmers Foods with the world."
Prize winners on display in China.
For its 11th edition, SIAL Innovation sought out the most innovative products in North America. Of the 140 products that were competing at SIAL, eight from Canada and two from the United States stood out in the Innovation category. Three values were highlighted among leading products: pleasure, practicality and naturalness. Though some of these values would previously have been seen as niche or for a small crowd, they've all become significant to most consumers. "The local component takes on a particular importance here," said food trends specialist Isabelle Marquis, who was an ambassador for SIAL's Innovation component. "Beyond the provenance, there is a certain pride that is associated with the local and is visible on the packaging." At Three Farmers, we take great pride in being from the Canadian prairies.
Our Pea Pops won because of their innovative qualities—technology, manufacturing process, market positioning and merchandising. SIAL Innovation is the only international contest with a presence in the four corners of the world, and we're excited to continue to share our brand story and products with a global audience. Made up of food professionals, including SIAL Canada 2018 food-innovation ambassadors Dana McCauley and Isabelle Marquis, and presided over by Xavier Terlet and the XTC World Innovation firm, the jury rewards 10 finalists and hands out three grand prizes. Taking home the gold medal while being surrounded by amazing participants is an incredible honour.
Prior to entering SIAL, our Pea Pops underwent a transformation. Advancements in our proprietary roasting process accompanied by a 1.2 million dollar facility upgrade completely changed their texture and flavour profile. With the new air-popped texture, customers have been writing us rave reviews and industry leaders like SIAL have been wowed.
Three farmers isn't just a name—it's the origin of the company. Three Farmers was founded by three real-life farmers, and their daughters are bringing wholesome snacks to the world. Saskatchewan grows more than 80% of Canada's pulses. Three Farmers turns those crops into healthy, minimally-processed snacks sold all over the world. SIAL delighted in our homegrown, professionally perfected products.
Winning this prestigious award is a huge accomplishment, one we're thrilled to share with the Three Farmers community!