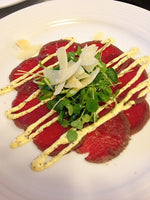 This recipe comes from the
catering package that was auctioned off last month for the Saskatoon Food Bank and Learning Centre to NHL player Eric Gryba. Succulent and tender, this carpaccio is sure to please your own dinner party guests and pairs wonderfully with Layer Cake's spicy Malbec.
Ingredients:
Carpaccio
Serves 6
12 oz bison strip loin, cleaned and trimmed
2 Tbsp Three Farmers camelina oil
Salt and pepper to taste
Garlic Dijon Aioli (makes 1 cup)
1 egg
1 tablespoon Dijon mustard
1 small garlic clove, peeled
1 cup Three Farmers camelina oil
1 tbsp lemon juice
1 tbsp vinegar
Salt and pepper to taste
Sprout Salad
1 cup mustard sprouts
4 cups sunflower sprouts
2 cups pea sprouts
2 tbsp Three Farmers roasted onion and basil camelina oil
2 tbsp lime juice
1 tbsp honey
Salt and pepper to taste
Parmesan Cheese – to shave over the dish as garnish
For the carpaccio:
Rub the bison strip loin with camelina oil and season with salt and pepper. Heat a non-stick pan over high heat and sear the meat on all sides, about 1 minute per side. Remove from the pan and let cool. Then wrap as tightly as possible in saran wrap to create a cylinder shape. Wrap again in tinfoil to assist in a tight hold and place in the freezer to freeze solid. Once frozen, use a slicer to slice the meat as thinly as desired and place directly on to a plate to garnish and serve.
Alternatively:
Create small circular designs with the slices on parchment squares creating portions of carpaccio for a later service. Refreeze the portions. When ready to serve, flip the parchment circles over on to a plate and peel the parchment away plating perfectly. Let the meat thaw directly on the plate before garnishing.
For the aioli:
In a blender combine egg, mustard, and garlic. While blending, slowly add the camelina oil in a thin stream until the ingredients are completely combined. Now add the lemon juice and vinegar and season with salt and pepper.
For the sprout salad:
Toss all ingredients together in a bowl, season with salt and pepper.
To assemble:
Put the aioli in a squeeze bottle and squeeze sporadically over the bison carpaccio. Garnish with a generous portion of the sprout salad and shave some mild parmesan cheese over top.