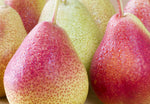 This recipe is courtesy of Mary So, the Meat Department Supervisor at
Urban Fare Shangri La.
This past week they were show casing some rare and beautiful Californian pears, one of which being the Forelle. It has a dense and juicy texture and the sweetness pairs wonderfully with our Roasted Garlic and Chilli Camelina Oil. Mary shows us how to make a simple yet elegant salad with fresh ingredients from their produce, grocery and meat departments.
Ingredients:
Salad
1 Forelle Pear, sliced thin
1 bag baby spinach
1/2 lb. peeled shrimp
Dressing
1/4 cup Three Farmers Roasted Garlic and Chilli Camelina Oil
2 tbsp. fresh lemon juice
salt and pepper to taste
Directions:
Whisk all dressing ingredients in a separate bowl, set aside. Assemble pear, spinach and shrimp in a bowl and pour dressing over. Toss to coat the salad evenly and serve! This salad is also great with a bit of avocado sliced over top. It is complimented nicely with a glass of crisp Chardonnay or Pinot Gris.