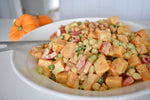 By Elysia Vandenhurk
Ingredients
Serves 6-8
4 cups of Butternut Squash, peeled and large dice

2 cups Red Bell Pepper, large dice

1 cup Green Onion, chopped

2 cups of Chickpeas, cooked (or canned)

Three Farmers Roasted Chickpeas for topping
Dressing
1 cup Plain Greek Yogurt

2 tbsp Mayonnaise

⅓ cup of Cider Vinegar

2 tbsp Honey

½ tsp Cinnamon

1 tsp Cumin

2 tbsp Curry powder

1tbsp Three Farmers Camelina Oil
Instructions
Preheat the oven to 275F. Drizzle the squash with camelina oil and roast for approx. 25min or until fork tender. Set aside to cool.

Whisk together all dressing ingredients and season with salt and pepper to taste.

Combine squash, peppers, green onion and chickpeas into a bowl and generously dress with the Yogurt Curry Dressing.

Top with Three Farmers Roasted Chickpeas and serve.