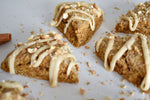 By Heather Deck RD, BSc AHN
Ingredients
Scones
½ cup Pumpkin Puree

1 Large Egg

3 Tbsp Heavy Cream

1 Tbsp Vanilla Extract

2 cups Flour

1 Tbsp Molasses

¼ cup plus 2 Tbsps Dark Brown Sugar

2 tsp Baking Powder

½ tsp Salt

1 tsp ground Cinnamon

½ tsp ground Ginger

½ tsp ground Cloves

½ tsp ground nutmeg

½ cup cold, unsalted butter
Glaze
½ Butter

½ cup Cream Cheese

1 ½ cups Icing Sugar

3 Tbsp canned Pumpkin

¼ tsp ground Ginger

¼ tsp ground Cinnamon

¼ tsp ground Nutmeg

¼ tsp ground Clove
Instructions
Scones
Preheat oven to 400 degrees F and line a baking sheet with parchment paper.

In a medium bowl, whisk together the pumpkin, egg, heavy cream, molasses, vanilla, and ground spices.

In a large bowl, combine the flour, dark brown sugar, baking powder, baking powder and salt.

Cut the cold butter into cubes and add to the flour mixture. Using a pastry cutter or a form, cut the butter into the flour mixture until the butter is evenly distributed throughout. The butter should remain solid and pieces should be around the size of a pea.

Add the pumpkin mixture to the flour and mix just until everything comes together into a loose dough. Do not overmix.

Dump the dough onto a floured surface and shape into a disk shape, about ¾ - 1 inch thick.

Cut the disk into 6 wedges and place on the prepared baking sheet making sure the wedges are not touching.

Bake the scones for 12 – 15 minutes. Let the scones cool on the baking sheet for a few minutes and then transfer to a wire cooling rack.
Glaze
Add the butter to a small saucepan placed over medium heat. Stir continuously until the butter has melted and become frothy. Continue to watch the butter as it sits over medium heat and begins to bubble making sure to stir occasionally. Once you notice the butter start to change from a yellow color to a golden-brown color, remove from heat and let cool to room temperature.

In a medium bowl, whip the cream cheese with a hand blender or stand mixer. Gradually add in the brown butter until fully combined and smooth. Add in the pumpkin puree and spices and continue mixing until everything is evenly combined.