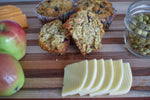 By Elysia Vandenhurk
Ingredients
(Makes approx 3 dozen small muffins)
3 cups Flour

5 cups Oats

1.5 tbsp Baking Soda

1.5tbsp Baking Powder

Pinch of Salt

1 cup of Hemp Hearts

4 Eggs

4 overripe Bananas

2 cup of Honey

1.5 cup of Three Farmers Camelina Oil

1 tbsp Vanilla Extract

3 cups of Shredded Carrots
Instructions
Preheat the oven to 350 degrees.

In a medium bowl combine the flour, oats, baking soda, baking powder, hemp and salt.

In a second large bowl mash the bananas and combine with eggs, honey, camelina oil and vanilla extract.

Add dry ingredients to the wet and mix until combined. Add carrots and mix until combined.

Evenly distribute the batter into lined muffin tins and bake in the oven for 20 minutes. To test doneness, insert a toothpick into the center of the muffin and when it removes it should come out clean (no batter on the toothpick).