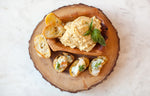 This hummus made with Camelina oil is a healthy and light snack. Perfect for any occasion!
Ingredients
540ml can of chickpeas
1/2 tsp cumin
3 tbsp lemon juice
1-2 cloves fresh garlic
1/3 cup camelina oil (or until desired consistency is reached)
4-5 leaves fresh basil, chopped
pinch cracked black pepper
pinch salt, to taste
Instructions
Put the chickpeas, lemon juice, garlic, and cumin in the food processor and blend together. When well blended, pour in the oil very slowly to ensure emulsification. Add chopped basil. Season with salt and pepper to taste.