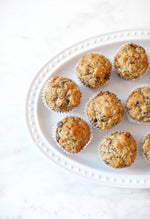 Whether you are avoiding sugar, or just want to try some tasty muffins, these are for you!
Ingredients
4 ripe bananas
¼ cup Three Farmers Camelina Oil
1 beaten egg
1 pkg stevia or 3 tbsp honey
¼ cup oats
½ cup rye flour
¾ cup chopped pecans, toasted
1 tsp baking powder
1 tsp baking soda
Instructions
Mash the bananas together with camelina oil, egg, stevia/honey together in a bowl to combine. In a separate bowl combine the remainder of the ingredients. Now add the liquid ingredients to the dry ingredients and combine with a fork. Do not beat or over mix.
Dish into a muffin tin (ensure to oil or line with muffin liners) and bake at 325°F until done. About 10-15 minutes.
Makes 10-12 muffins.
How can something so healthy taste so good?!