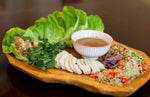 Ingredients:
1 Bib Lettuce – cleaned & trimmed 2 Chicken breasts – cubed 1 tbsp Three Farmers camelina oil – to sauté the chicken 1/2 cup green onion, chopped 1 cup carrot, shredded 1 red pepper, diced 2 cups quinoa, cooked
Dressing:
2 tbsp Peanut butter 3 tbsp Soya sauce 2 tsp fresh Ginger, crushed 1 large Garlic clove, crushed 2 1/2 tbsp Honey 1/4 cup Three Farmers camelina oil 1/3 Rice vinegar Cracked Pepper to taste
Directions:
Combine all dressing ingredients into a blender & blend until smooth. Refrigerate until ready to serve.

Heat 2 tbsp camelina oil in a pan & sauté the chicken pieces on moderate ­ high heat (approx. 8­10 min).

Combine cooked quinoa and remaining vegetables mix together with a fork.

Assemble your wrap. Place a generous amount of sauce onto the bib leaf, top with quinoa mixture

& chicken. Enjoy!
Try this: Use the Three Farmers Camelina Satay Dressing to dip chicken/beef skewers or dress cabbage slaws!