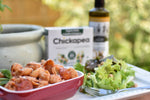 Classic Tomato Pasta
by Elysia Vandenhurk
Sauce Ingredients
1 tbsp Three Farmers Camelina Oil
½ white onion, small dice
2 cups fresh tomatoes, diced
4 cloves garlic, crushed
2 cups crushed tomatoes
1 tbsp dried basil
1 tbsp dried thyme
1 tsp oregano
Salt and pepper, to taste
Instructions
Cook your favourite pasta as per instructed on the package. We used Chickapea Pasta for this recipe!
Saute onion and garlic in Three Farmers Camelina Oil until lightly browned, add diced tomatoes and saute another 3minutes.
Add crushed tomatoes and spices.
Stir and bring to a light simmer for 10minutes.
Toss with Pasta, Season with Salt and Pepper and Serve warm. Enjoy!