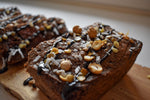 By Heather Deck
Ingredients
1-ounce Unsweetened Baker's Chocolate

2 large Eggs

1 cup White Sugar

½ Tbsp Three Farmers Camelina Oil

1 cup Grated Zucchini

1 tsp Vanilla Extract

1 cup All Purpose Flour

1 tsp Salt

½ cup Semisweet Chocolate Chips
Instructions
Preheat oven to 350 degrees F and lightly grease one loaf pan.

In a microwave safe bowl, microwave in 30 second intervals until melted, making sure to stir frequently.

In a large bowl, combine chocolate, eggs, sugar, oil and vanilla. Add the zucchini and stir. Stir in flour, baking soda, and salt until combined. Fold in the chocolate chips.

Pour batter into the prepared loaf pan and bake for 60 to 70 minutes or until a toothpick inserted into the centre of the loaf comes out clean.

Cool and enjoy.