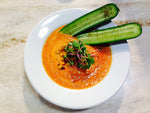 This recipe was featured by
Chef Elysia
at the 2015 Calgary Stampede Co-op Kitchen Theatre.
Ingredients
Serves 6
1 tbsp Three Farmers Original Camelina Oil

1.5lbs ripe plum tomatoes

2 cloves garlic, peeled

1 shallot, peeled

1 large red bell pepper

1 hot chili pepper (if desired), halved and seeded

2 tsp mustard seed, toasted and ground

2 tsp celery seed, toasted and ground

2 cups vegetable stock

1-2 tbsp camelina oil

salt and cracked pepper to taste
Instructions
Pre heat the oven to 400°F and turn on your grill. Slice the tomatoes in half and place the flat side down in a deep baking sheet (be sure the pan is deep enough to catch the juices that will release from the tomatoes). Drizzle the tomatoes with 1 tbsp camelina oil and place in the oven for approx. 30 min to roast and blister. Halfway through, slice your shallots in half and add to the roasting pan along with the garlic to roast in with the tomatoes.
Lightly oil the bell pepper and place directly on the grill, turning a few times, until it softens and the skins are blistered and charred in spots, approx. 8 minutes. Transfer the pepper to a plastic bag and let it steam until cool enough to handle. Peel off the skin; cut the pepper in half and discard the stem and seeds.
Toast the celery seed and mustard seed on the stove top at medium heat. (Approx. 3 minutes or until you begin to smell them toasting) Using a coffee grinder, grind the ingredients down to a powder.
Toss the roasted tomatoes (with the pan juices), garlic, shallot, pepper, and herbs together with 2 cups of vegetable stock. Stir together and transfer to a blender or food processor. Process to a smooth consistency or desired consistency. Season with salt and pepper and place in the refrigerator to chill.
NOTE: This recipe is fantastic served as a chilled soup, as a hot soup or sauce for chicken, fish or pasta.
Toppings:
Lastly, top the soup with Three Farmers crunchy roasted chickpeas for additional texture and garnish with your favorite summer sprouts.