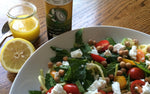 This recipe is courtesy of Chef Alison from
Design to Dine
. The amazing photo of her yummy salad is courtesy of
Joey Armstrong
.
Ingredients - Salad
Serves 4
2 medium green, yellow or grey zucchini
20 mint leaves torn
20 basil leaves torn
4 handfuls organic baby arugula
Macedonian Feta crumbled into large pieces
1 package cherry or grape tomatoes cut in half
1/2 english cucumber diced into large pieces
1/2 package (60g) of Three Farmers Balsamic & Cracked Pepper Roasted Chickpeas
Instructions
If you have a vegetable spiralizer, this is what is used to make the zucchini noodles. Otherwise, you can slice into long ribbons on a mandolin or using a vegetable peeler. Either keep the zucchini as ribbons or cut into long, thin strips.
In a large bowl place zucchini, herbs and arugula. Top with remaining ingredients. Set aside.
Ingredients - Salad Dressing
4 tbsp Three Farmers Basil and Onion Camelina Oil
2 tbsp fresh lemon juice
zest of half a lemon
pinch of sea salt
3 turns of black pepper
1 tsp dijon mustard
half a small shallot diced finely
Instructions
Add all dressing ingredients into a mason jar and shake! Pour desired amount of dressing over your salad. No need to toss the salad, hints of dressing are best with this style of salad.
Serve in your favourite bowls and enjoy!