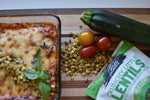 Gluten Free Zucchini Parmesan
by Elysia Vandenhurk
Ingredients
(Serves 4)
3-4 Small Zucchini's
1 tbsp Three Farmers Camelina Oil
½ white onion, small dice
4 cloves garlic, crushed
2 cups crushed tomatoes
1 tbsp dried basil
1 tbsp dried thyme
1 tsp oregano
Salt and pepper, to taste
Instructions
Preheat the oven to 350F.
Slice 3-4 small zucchini, lengthwise, approx ¾ inch thick.
Shred and blend mozzarella cheese and parmesan cheese.
In a small 9x9 pan, layer the sauce, zucchini repeating until 1 inch from the top of the pan.
Finish the top layer with a generous amount of mozzarella and parmesan cheese blend (or vegan cheese alternative).
Bake for apx. 30minutes.
Broil for about 5min to brown the top layer of cheese.
Add some protein and crunch with Three Farmers Crunchy Little Lentils on top! Serve Warm!