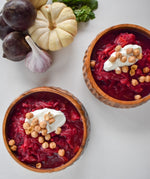 By Elysia Vandenhurk
Ingredients
 Serves 6-8
3 large Beets, peeled and grated

4 tbsp Three Farmers Camelina Oil

4 cups Chicken or Vegetable Broth

6 cups of Water

3 medium Potatoes, peeled and diced small

2 large Carrots, peeled and thinly sliced

4 large Celery stalks, chopped

1 Red Bell Pepper, diced small

1 medium White Onion, diced small

2 large Garlic Cloves

4 tbsp Tomato Sauce or Ketchup

2 cups of Chickpeas, cooked or canned

3 tbsp Cider Vinegar

4 tbsp chopped, Fresh Dill

Salt and Cracked Pepper, to taste
Instructions
Peel, grate and/or slice all vegetables.

Heat camelina oil in a large soup pot over medium/high heat. Add beets and sauté 10 minutes, until beets are softened.

Add 4 cups of broth and 6 cups of water. Add sliced potatoes and sliced carrots then cook for 10-15 minutes or until fork tender.

While potatoes are cooking, heat a large skillet over medium/high heat and add 2 Tbsp oil. Saut chopped onion, celery and bell pepper and garlic until softened and slightly browned. Mix in the tomato sauce or ketchup and transfer to the soup pot.

When potatoes and carrots reach desired softness, add the beans, bay leaves, cider vinegar, dill. Simmer for an additional 2-3 minutes and season with salt and pepper.

Top and serve with sour cream and Three Farmers Crunchy Chickpeas!