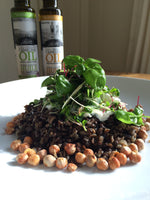 Another unique and delicious recipe from Alison Ramage at
Design to Dine
, incorporating both our roasted chickpeas and camelina oil.
Crispy Shallots:
4 shallots thinly sliced 2 tablespoons all-purpose flour 1 cup/250 ml Three Farmers Original camelina oil Peel the shallots and slice thinly. In a bowl toss to coat with flour and a pinch of salt. Heat the camelina oil in a medium heavy-bottomed saucepan placed over high heat. Make sure the oil is hot by throwing in a small piece of onion; it should sizzle vigorously. Reduce the heat to medium-high and add the sliced onion. Fry for 5 to 7 minutes, stirring occasionally with a slotted spoon, until the shallots takes on a nice golden brown color and turns crispy Transfer onions to a bowl lined with paper towel and sprinkle with a little more salt. Set aside.
Mejadra:
1 1/4 cups/250g beluga lentils 1 cup Wild rice Juice of half a lemon Salt and freshly ground black pepper 1/2 cup Three Farmers Balsamic + Cracked pepper Chickpeas
Lentils:
Rinse the lentils and sift through to ensure there are no little stones. Place the lentils in a small saucepan, cover with plenty of water, bring to a boil, then simmer for 12 to 15 minutes, until the lentils have softened but still have a little bite. *Do not vigorously boil as lentils will turn mushy. Drain and set aside.
Rice:
Place the wild rice in a small saucepan, cover with plenty of water, bring to a boil, and cook for 20-25 minutes, until the rice has slightly split open. Drain and set aside.
Spices:
2 tablespoons Camelina oil 1/2 teaspoons ground turmeric 1 1/2 teaspoons ground allspice 1 1/2 teaspoons ground cinnamon 2 teaspoons cumin seeds 1 1/2 tablespoons coriander seeds In a skillet add 2 tbsp Three Farmers Original camelina oil. Add cinnamon, allspice, coriander seeds, cumin & turmeric. Sautee until fragrant. Set Aside.
Minted Yogurt:
½ cup Greek style yogurt 2 tbsp fresh minted chopped ¼ tsp salt zest of 1 lemon Mix all ingredients, set aside.
Salad:
1 cup arugula 1 cup pea or sunflower shoots 1 handful sweet basil Sprinkle of beet micro greens 1 tbsp Three Farmers Basil & Onion camelina oil 2 tbsp lemon juic Mix all ingredients together and set aside.
Assembly:
In a large bowl mix rice, lentils, spices, lemon juice and salt and pepper to taste. Place a portion of lentil + rice mixture in a shallow bowl or plate. Add a dollop of minted yogurt on top of the lentil mixture. Place a handful of mixed salad a top the minted yogurt. Sprinkle Three Farmers Balsamic + Cracked Pepper chickpeas and crispy shallots around the salad. Enjoy!