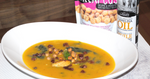 Serves 6-8
1 medium size pumpkin, cleaned and roasted
To Roast the Pumpkin: Pre heat oven to 400F. Quarter the pumpkin and scrape out the seeds and pulp. Place the seeds in cool water and let sit to clean the skins off and roast later on. Line a sheet pan with parchment paper and place the pumpkin skin side down. Drizzle a generous amount (approx.. 1 tbsp per quarter) of Three Farmers camelina oil onto the pumpkin flesh, season with salt and pepper and rub gently with your fingers to evenly distribute over the pumpkin flesh. Flip the pumpkin to skin side UP, flesh down, and place in the oven for approx. 45 min or until fork tender.
Once the pumpkin is roasted, use a spoon and scrape the flesh from the skin. Place the flesh into a blender and puree to smooth consistency.
NOTE: 1L puree is required for the soup below. If you find you have more than 1L, freeze for a later date or bump up your soup recipe.
Soup:
2tbsp Three Farmers camelina oil (try using our garlic and chili flavoured oil!)
1tbsp fresh ginger, finely chopped
1tbsp fresh garlic, minced
2 large shallots, diced
1 tsp celery seeds
1 tsp cumin, ground
1 tsp cardamom, ground
4 cups fresh spinach, cleaned
1 can coconut milk
1 tbsp honey
1 tbsp cider vinegar
1L fresh pumpkin puree
Instructions:
In a soup pot, heat the camelina oil on medium to high heat and saute the garlic, ginger and onion until translucent and lightly browned. Add the celery seed, cumin and cardamom. Stir the ingredients together and toast the herbs slightly. Stir in the coconut milk to deglaze the pan and whisk lightly. Let simmer for approx. 5min on medium heat to combine flavors. Now stir in the spinach and the pumpkin puree. Whisk all the ingredients together for even consistency, bring to a simmer and let simmer on low heat for approx. 15min, allowing all the flavours to mend together.
Suggested Garnishes:
Three Farmers Roasted Chickpeas – add amazing flavour and texture!
Cured Chorizo sausage, Diced and caramelized
Caramelized Brussel Sprouts - get the recipe here