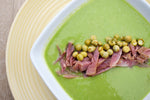 Ingredients:
4 cups pork stock (or veggie stock for vegetarian)
4 cups frozen green peas
1 cup white onion, chopped
2 tbsp Three Farmers Camelina Oil
3 cloves garlic, cleaned and chopped
Salt and pepper, to taste.
Instruction:
In a large pot, saute the onion and garlic in Three Farmers Camelina Oil, until lightly browned. Add the Pork stock and bring to a simmer. Add the frozen green peas and continue to simmer for 5 min (just to thaw and heat the peas).
Remove from heat and puree until smooth. Season with Salt and Pepper, to taste.
Serve immediately or store for heating later.
Garnish: Three Farmers Ranch Pea Pops