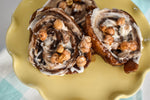 Whole Wheat Cinnamon Buns
Dough Ingredients
¼ Cup Warm Water

1 tsp Sugar

2 ¼ tsp yeast (1 packet)

1 1/3 Cup Hot Water

1/3 Cup Sugar

1/3 Cup Three Farmers Original Camelina Oil

½ tsp Salt

2 eggs, beaten

2 Cups Whole Wheat Flour

2 ½ Cups White Flour
Filling Ingredients
1 ½ Cups Brown Sugar

1 Tbsp Cinnamon

½ Cup Margarine or Softened Butter
Caramel Sauce Ingredients
½ Cup Brown Sugar

2 Tbsp Butter

1 tsp Cinnamon

2 Tbsp Milk
Glaze Ingredients
½ Cup Icing Sugar

2 Tbsp water
Instructions
*This can be prepared in a stand mixer using a dough hook or by hand.
Combine ¼ cup warm water, 1 tsp sugar and yeast in a small bowl. Set aside for 10 minutes

In a large bowl, whisk the hot water, sugar, salt and oil.

Add 3 cups of flour and whisk until smooth.

Add the beaten eggs and yeast mixture to the bowl, stir to combine.

Add the remaining flour slowly to make a soft dough.

If you are using a stand mixer, mix on high for 10 minutes. If you do not have a stand mixer, place the dough on a floured surface and knead for 10 minutes, adding flour as necessary. The dough should be soft and elastic but not sticky when it is done.

Place the kneaded dough into an oiled bowl and cover with plastic wrap and then a tea town. Place the bowl in a warm location until the dough has doubled in size, this should take 2 hours.

While the dough is rising, you can prepare the filling by mixing the cinnamon and brown sugar in a bowl.

You can also prepare the caramel sauce by placing the butter, brown sugar and cinnamon in a small saucepan over medium heat. Allow the mixture to simmer for 5 minutes while stirring constantly, then remove from heat.

When the dough has risen, punch down and place on a well flour surface.

Roll the dough out into an even rectangle, about half an inch thick.

Spread the softened butter or margarine evenly over the dough making sure to get to every corner and edge.

Evenly sprinkle the brown sugar and cinnamon mixture over the buttered dough once again making sure to get every corner and edge.

Starting at one of the longer ends, roll the dough tightly. Continue rolling until you have one large tube of rolled dough.

Slice the dough into 1 ½ - 2 inch thick slices.

Place your caramel sauce into a prepared 9x12 baking dish, place the slices of dough on top of the caramel sauce leaving an inch In between each slice.

Cover the baking dish with plastic wrap and a tea towel and set aside to rise a second time, this will take about an hour.

When there is 10 minutes left of rising, pre-heat your oven to 350 degrees.

Before placing in the oven, pour the 2 Tbsp of milk over the dough slices evenly, this will keep the cinnamon buns from drying out in the oven.

Bake for 10 minutes and flip the buns so that the other side is sitting in the caramel sauce.

Bake for another 10 – 15 minutes

To prepare the glaze, whisk together the icing sugar and water until you get a thin glaze. You may need to add more water or more icing sugar in small quantities to get your desired consistency. When the cinnamon buns come out of the oven, drizzle with the glaze.