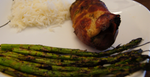 This recipe was submitted by one of the winners of our
Get Creative With Camelina Recipe Contest
, Trevor Gelsinger. Keep watching as we feature one of the winners each month. Makes 4 Servings.
Ingredients
4 chicken breasts, filet removed
8 pieces of thinly sliced prosciutto
20 asparagus spears
½ cup Three Farmers Roasted Garlic and Chili Camelina Oil
2 tbsp Three Farmers Camelina Oil
1 oz fresh basil leaves
4 cloves garlic
2 tbsp grated parmigiano reggiano cheese
2 tbsp pine nuts
pinch of salt
pinch of pepper
pinch of crushed red pepper flakes
balsamic vinegar to taste
**Before starting place 2 skewers and 4 toothpicks in water**
Pesto Instructions
Combine the roasted garlic and chili camelina oil, basil, garlic, parmigiano reggiano cheese, pine nuts, a pinch of salt, pepper and crushed red pepper flakes into a blender. Blend until smooth and set aside.
Chicken Instructions
Place chicken into a large ziplock freezer bag and close after letting the air out. Use a meat tenderizer to flatten the chicken. Place two pieces of prosciutto, slightly overlapped, onto a cutting board and place a piece of chicken on top. Spread 2 tbsp of pesto over the chicken and tightly roll the chicken and prosciutto and place on a cookie sheet. Use a toothpick to hold the rolled up chicken and prosciutto together and repeat for the remaining 3 pieces of chicken.
Asparagus Instructions
Break off the bottoms of the asparagus spears and place half of the asparagus on each of the skewers. Brush each side with camelina oil and on the top lightly drizzle with balsamic vinegar and season with salt and pepper.
Grilling Instructions
Heat grill to medium-high heat (350-450F) and place chicken on an oiled grill. Cook for 15 minutes before flipping then cook an additional 10 minutes or until the chicken has reached an internal temperature of 170F. Remove from the grill and cover with tin foil and allow to rest for 5 minutes. Place the Asparagus spears on the grill and cook for 1 minute per side, remove from the skewer and plate with chicken.
Oven Instructions (alternative to grilling)
The chicken can be cooked in the oven - complete the steps above and cook at 375F and the asparagus can be done in the oven at 375 for 2 ½ minutes per side.