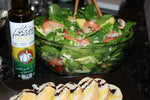 This recipe was submitted by one of the winners of our
Get Creative With Camelina Recipe Contest,
Danielle Wildfong. Keep watching as we feature one of the winners each month.
Salad Ingredients
4 tbsp Three Farmers Roasted Garlic & Chili Camelina Oil
12 raw tail-on shrimp
4 large handfuls baby spinach
2 avocados sliced
1 pint grape tomatoes halved
3 green onions chopped
Asiago cheese shredded (as desired)
1 cup sliced mushrooms
1/4 Red onion, diced
Kale- if desired
Dressing Ingredients
¼ cup Three Farmers Original Camelina Oil
2 tbsp fresh lemon juice
1 tbsp balsamic vinegar
1 tbsp basil pesto
2 cloves garlic chopped
1 tbsp parmesan cheese
salt and cracked pepper to taste
Instructions
Whisk all the ingredients together in a bowl and adjust lemon/vinegar to desired acidity Wash, tear and toss kale in a small amount of camelina oil and cook in oven at 350 for 15 minutes turning once. Toss spinach with avocados, tomatoes, green onions, asiago cheese, mushrooms and sliced onion. Right before serving cook thawed shrimp in the chili oil, toss in kale chips and decorate salad with shrimp. Serve with bread and your favourite wine pairing.