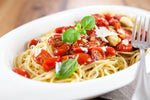 This is the recipe from Elysia's appearance on Daytime Ottawa Friday April 17th.
Ingredients:
1 cup cherry tomatoes, sliced in half
1 cup crush tomatoes, small can
4 cloves garlic, chopped
2 shallots, diced
3 tbsp Three Farmers Camelina Oil
¼ cup red wine
1 bunch fresh basil
1 small bunch fresh oregano
salt and pepper
Parmesan Reggiano (small chunk for grating)
3 cups wild rice linguini pasta
In a saucepan, heat the camelina oil over medium/high heat and saute the shallots until slightly brown. Add the cherry tomatoes and garlic. Cook until the tomatoes become soft, add the red wine and deglaze the pan. Cook 2 min to cook off the alcohol taste of the wine. Add the crushed tomatoes and chopped herbs. Let the sauce simmer on medium heat until flavours have combined and the consistency is similar to a stew. Season with salt and pepper.
Meanwhile, bring a pot of water to a boil and cook the wild rice pasta (or pasta of your choice) as per directions on the package. Strain and stir into the sauce. Serve with freshly grated parmesan cheese.
Salad Ingredients:
fresh spring greens and sprouts
balsamic vinegar
1 fresh lemon, whole
In a bowl, combine your favourite seasonal greens. Drizzle with camelina oil, balsamic and a squeeze of fresh lemon. Toss in some Three Farmers Roasted Chickpeas and season with salt and pepper.
Serve with a baguette.