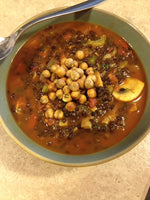 Let's face it, it's back to school time. That means we need to start looking for new quick, easy and healthy meals for on-the-go families. This tomato lentil stew with fresh dill is an easy and hearty recipe to have ready for the family after a long day and is great to take to work or for school lunches. The addition of our new Roasted Chickpeas as a garnish and our Omega-rich Camelina Oil makes this a 5 star dish that is healthy, filling and satisfying.
Ingredients:
2 cups black lentils
4 tbsp Three Farmers Roasted Garlic & Chili Camelina oil
6 tomatoes, diced
1/2 cup onion, chopped
1/2 cup celery, chopped
1 cup button mushrooms, chopped
4 cloves garlic, minced
¾ cup tomato sauce
3 Tsp Worcestershire sauce
1 Tsp hot sauce
1/4 cup red wine
4 cup chicken stock
1/2 cup fresh dill, chopped
Three Farmers Balsamic and Cracked Pepper Roasted Chickpeas - perfect garnish to add some crunch!
Instructions:
Heat the camelina oil in a large pot on the stove top. Saute the onions, celery, mushrooms and garlic until soft, slightly browned and aromatic. Add the chopped tomatoes and let the juices deglaze the pan slightly, then add the red wine to assist in further deglazing. Let the wine reduce to cook off the alcohol. Add the remaining liquid ingredients: tomato sauce, Worcestershire sauce, hot sauce and chicken stock (may use vegetable stock). Bring these ingredients to a light boil and add the raw lentils. Let the stew cook the lentils and add more liquid, if required. Once the lentils are cooked (approx. 45 minutes) take the stew off the heat to cool and stir in the fresh dill. To serve: Garnish with Three Farmers Cracked Pepper and Balsamic Roasted Chickpeas to add additional texture and crunch.