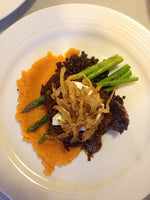 If this doesn't scream Sunday dinner, we don't know what does! These fall-off-the-bone ribs are tender and hearty and the pureed sweet potato and parsnips with Beluga lentils balance the meal perfectly. A great meal to enjoy with family and a glass of Pinot Noir.
BBQ Braised Short Ribs with Orange and Ginger
Serves 6
5 lbs lean beef short ribs
1 cup bbq sauce
1 cup hoison sauce
2 cups orange juice
1 can beef consommé
3 cloves garlic, cleaned and chopped
1 yellow onion, roughly chopped
¼ cup of ginger, peeled and chopped
Sweet Potato and Parsnip Puree
2 large sweet potatoes, peeled and cut into ½ inch pieces
4 parsnips, peeled and cut into ¼ inch pieces
¼ cup chicken broth, heated
2 tbsp Three Farmers camelina oil
Salt and pepper to taste
Beluga Lentils
1.5 cups raw beluga lentils
2 cups chicken stock
2 cups water
2 tbsp Three Farmers camelina oil
Salt and pepper to taste
For the braised beef:
Pre heat the oven to 350 degree F. Clean up the ribs to rid of any excess fat. Mix all the sauce ingredients into a roasting pan and submerge the ribs into the sauce. Place a lid on the roaster and put in the oven. Cook in the oven up to 6 hours or until the ribs are falling away from the bone and the meat is tender. Remove the ribs and transfer the sauce to a small pot. Bring to a boil, reduce the heat and simmer the sauce until thick such as a BBQ sauce would be. Place the ribs back in the sauce to heat and serve.
For the puree
: Place the potatoes and parsnips in a pot, add stock, cover with water, and bring to a boil. Reduce the heat to low. Cover and cook for 10 minutes or until the vegetables are tender. Drain the vegetables well. Place the vegetables into a food processor with a few tbsp of the cooking liquid as well as the camelina oil. Cover and process until the mixture is smooth. Season with Salt and pepper.
For the lentils
: Place the raw lentils in a pot and cover with the chicken stock and water. Bring to a boil. Cover and reduce the heat to low. Cook the lentils approx.. 30-40min or until they are tender, but not mushy. They should still have a nice texture to them.
To plate:
Put the puree down on the plate and sprinkle a spoonful of lentils on top. Now place a generous helping of the short ribs over top and spoon on some additional sauce. Garnish with a dollop of crème fresh and crispy onions to add richness and texture.