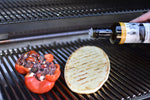 Veggie and Feta Stuffed Peppers
by Elysia Vandenhurk
Ingredients
(Makes 4)
2 cups cooked Rice (use your favorite blend - we chose Floating Leaf)
1 roma tomato, small dice
¼ cup red onion, small dice
½ cup bell pepper, small dice
½ cup sliced, pitted, black olives
1 cup crumbled Feta cheese (substitute vegan cheese for Vegan)
2 tbsp Three Farmers Camelina Oil
3 tbsp balsamic vinegar
2 bell peppers for stuffing, sliced in half and seeded
Instructions
Preheat BBQ to Medium heat.
Mix the rice, diced vegetables, feta cheese, Three Farmers Camelina Oil and balsamic vinegar together in a bowl.
Stuff the bell pepper halves with a generous amount of the mixture.
Season with salt and pepper to taste and place stuffed bell peppers on the grill and cook for 15min or until the pepper is tender and grilled to your liking, be sure to check that the filling is hot. Enjoy!