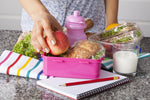 It's increasingly harder to be creative and yet ensure you are feeding your family good quality foods you can trust. Here are some easy ideas that you can get using right away!
1. Be Aware of Allergy Restrictions at School:
The increase in nut allergies has caused many schools to be declared nut-free zones and parents can no longer rely on those peanut butter and jam sandwiches that used to be a quick easy go to. Other dietary restrictions like a sensitivity to gluten means thinking outside the box to come up with alternatives to crackers and muffins but still provide a high nutritional quality to what your child eats in a day. Our Three Farmers
Roasted Chickpeas
are both nut-free and gluten-free as well as high in protein, meaning you can add these to lunches as a worry free snack. With the use of camelina oil to bind the seasoning to the chickpeas, they are also a source of Omega 3's. Definitely a snack you can feel good about!
Tip: To make snacking fun, put some of the Three Famers Barbecue Roasted Chickpeas in a shaker container, kids will have fun shaking out the chickpeas and crunching on them for a tasty treat!
2. Make lunches Delicious AND Healthy:
Camelina oil is a great source of Omega 3, 6, & 9 and its nutritional profile remains stable even when used in cooking at high temperatures; you can use it to make the foods that your kids are used to having and nourish their busy bodies and brains. We share recipes regularly on our website that use our Three Farmers
Camelina Oil
as a substitute for other oils in everyday recipes.
Tip: Try our delicious Zucchini Muffins made with camelina oil. This is a great way to use up the zucchini's you harvested from your garden.
Tip: Try our Super Granola , it's also gluten-free and very versatile. Change up how you make granola and see your family eat this up in no time!
3. Make lunches Quick and Easy:
Sometimes there just isn't enough time in the mornings to make them and sometimes it's the last thing we feel like doing at the end of a long day.
Tip: Make an extra big batch of your spaghetti or soup from the night before and pack the leftovers in a thermos for lunch the next day. Try these great recipes for Vegetable Soup or a multi purpose Spaghetti Sauce.
Tip: Shake some Three Farmers Roasted Chickpeas on salads or soups for that extra satisfying crunch as a great alternative to croutons.
These are just a few simple ideas that you can use to help create those yummy meals and ease some of the stress that comes with finding the time to create just the right lunches for your family.