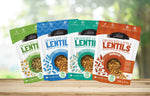 We've been working hard behind the scenes for a long time to bring this day to fruition! Reading and researching, flavouring and testing, roasting and popping, we're so excited to unveil our newest product, Three Farmers Crunchy Little Lentils! Big bang in a small pulse, these Crunchy Little Lentils are packed with protein and flavour. Grown and made in Canada, you'll be amazed that a snack so small can make you feel so mighty.
Why lentils?
Lentils are one of Saskatchewan and Canada's biggest exports. Here on the prairies, we grow this healthy pulse and ship it all around the world. After some thought, the answer was obvious: why not create something that we Canadians can enjoy right here at home?! Since we were already growing lentils and intercropping them with two of our other products—camelina and green peas—it was a natural progression to turn those lentils into a snack for families right here in Canada and North America!
Canada is the leading producer and exporter of lentils, with the majority of production happening right here in Saskatchewan.
Our lentils are intercropped alongside our camelina and green peas—the perfect trio working in synergy together. When it came to dreaming up our next product it was a natural choice to use what we were already growing. The lentils and peas actually fix the nitrogen in the soil, which is something the camelina needs a lot of for optimum growth. This also reduces the need of supplementing crops with nitrogen fertilizer. Saskatchewan's climate provides optimal conditions for lentil crops, making it an important crop to grow to improve economic returns to producers.
We take pride in providing locally grown products that taste good and are good for you. Each package has a trace code that allows you to trace the journey of the Crunchy Little Lentils from our farms to your table.
"These lentils are going to go gangbusters!" — Farmer Ron
The perfect, pulse-based protein snack
When we're coming up with a new snack in our lab, it needs to fit with our mission of creating healthy, wholesome snacks. The lentil is perfect. It's a pulse based plant protein, the kind of food people are trying to add to their diet. In fact, 57% of North American consumers are trying to eat more plant protein (Dataessentials). The rise of this protein is no fad—the plant-based food sector grew 20% in retail sales, as compared to 2% growth for all foods (Nielsen). People are getting serious about their health, and we want to help by creating snacks that are healthy, convenient and tasty for both adults and kids.
Choosing the flavours
One of the most common questions we get when we launch a new product is "how did you choose the flavours?" Let us tell you, that part can be tough! There are so many delicious flavours we create, test and want to share, but only a few can make it to store shelves. There's some science and data (along with taste, of course!) that goes into us selecting our flavours for launch.
At Three Farmers, we understand how important it is to include our customers when creating our products. So, we surveyed Canadians who love to snack and want their snacks to taste good (who doesn't!). We tried flavours like chilli lime, curry, cayenne and more. After a ton of testing, market research and retesting, we landed on four amazing flavours: lightly salted, sea salt and vinegar, barbecue, and garlic and herb.
How do I eat them?
Great question—however you want! Lentils are the perfect little shape to snack on like a seed. Throw back a few handfuls when you're trying to curb that afternoon hunger pang. Sprinkle them on top of a salad. Stick the snack packs in your kids' lunches. They are nut and peanut free, gluten free, kosher and vegan, so they're the perfect snack for anyone, anywhere. They're so good for you and they taste good, we're sure these Crunchy Little Lentils will be loved by everyone.
Where can I get some?!
Grab a regular sized bag to have at your desk or purchase our snack size packs to throw in the kids' lunch. With four flavours to choose from, there is a flavour to satisfy any craving. Order them from our online store, or visit a store near you to find them!
Head over to our online store and try them today!