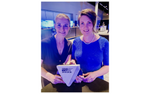 In June our team took home the Pursuit of Excellence Award, awarded by the 
NSBA
 which recognizes businesses that define, promote and identify as an industry leader among its peers and the business community. To say we are humbled would be an understatement.
"We started 10 years ago with this idea of taking Saskatchewan made goods to the rest of the world, in a more direct and transparent way - and that's still what we're doing today. Which is no easy feat, especially considering the last couple of years.
...
We manufacture here at home, we take goods that we've grown here at home and we take them to the rest of the world in the most transparent and minimally processed way that we can. We make healthy foods, food that people can nourish their families with, and we're extremely proud of that. We are very grateful and proud to represent Saskatchewan on the world stage." - CEO 
Natasha Vandenhurk
 in her acceptance speech, alongside Co-Founder and CIO, 
Elysia Vandenhurk
.