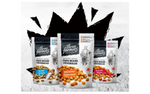 We are very excited to welcome District Ventures as a partner in Three Farmers Foods. Armed with the resources required to build our brand and distribution across Canada and the USA and expand our manufacturing in Saskatchewan, we will be able to continue to push towards our goal of making whole bean snacking a staple in all households across North America. – Natasha Vandenhurk, CEO of Three Farmers Foods.
The investment round was led with $3 million from District Ventures and included $3.2 million from existing investors including Export Development Canada ("EDC"), Golden Opportunities Fund Inc., and PIC Investment Group.
Click here for the entire blog post: Canada's Leading Provider of Roasted Bean Snacks Receives $6.2 Million Investment from District Ventures and Existing Investors (newswire.ca)
"Canada continues to demonstrate its enormous agricultural and health expertise and resources. Investments in vertically integrated companies like Three Farmers are what will create generational opportunity for our country," said Arlene Dickinson, General Partner of District Ventures Capital. "As leading producers for lentil and green pea production in the world, Canada is missing out by not participating in the commercialization of these resources into products – a gap Three Farmers is able to help fill."