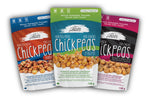 In the short time since hitting the market last year,
Three Farmers Roasted Chickpeas
have been leading the way as a healthy snack choice for Canadians from coast to coast. As part of our growing product line, we are pleased to announce the addition of a new flavour to the Roasted Chickpea Family. Sea Salt & Lime is available online now and is already appearing on store shelves. Just in time for the warm weather, this new flavour has a refreshing citrus taste and is great for lunches, sports games, and all of your summertime snacking needs. These locally grown and processed roasted chickpeas are a delicious, crunchy, and healthy snack and food topper. They can be used as an alternative to chips and nuts and make soups and salads come to life with a nice salty crunch. The
Three Farmers Roasted Chickpeas
are both nut free and gluten free and with 7g of protein and 8g of fibre per 40g serving, they make a satisfying snack to reach for between meals to curb your hunger. They pack a powerful nutritional punch as they also are a source of iron, phosphorus, copper, and are rich in thiamine and manganese. With the use of
Three Farmers Camelina Oil
to bind the seasoning to the chickpeas, they are transformed into a heart healthy Omega-3 treat as well. We are excited to grow our product line and anticipate an additional two more flavours of chickpeas added to our line this year. We are currently working on the packaging for the next flavour release and we are so excited to share it with you when its all ready. At Three Farmers we are always listening to the great feedback we get from customers and retailers when we are out sharing our story and your feedback, encouragement, and input are valued. Thanks for making our roasted chickpeas the new 'it' snack and feel free to share your thoughts in real time on our social media platforms - we like hearing from you!