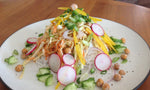 Ingredients - Dressing:
5 cloves of garlic
1 tbsp fresh ginger
1 tbsp peanut butter
1 tbsp sugar
1-2 tsps Sambal or any other chili paste
¼ cup soy sauce
¼ cup freshly squeezed lime juice
In a blender, combine and puree the above ingredients. Slowly add 1/2 -3/4 Cup Camelina Oil until dressing is emulsified. Season with Sea Salt and freshly ground Pepper to taste.
Ingredients - Salad
Approximately 3 cups green cabbage, shredded
2 large carrots, grated
1 orange or red pepper, chopped or julienned
1/3 red onion thinly sliced
1 cucumber diced
3 green onions thinly sliced
3-4 radishes thinly sliced
1 package (225 grams) vermicelli style rice noodles (cooked/strained as per instructions on package)
1/3 cup Three Farmer's Sea Salt & Lime Roasted Chickpeas
Portion noodles on plates and drizzle a bit of dressing over them. Combine cabbage, carrots, red onion, and cucumber in a bowl and toss with remaining dressing. Sort dressed vegetables on top of the noodles. Sprinkle sliced radish, green onion, and roasted chickpeas over each salad. Enjoy!